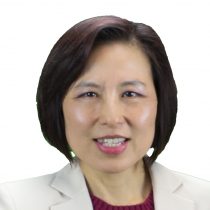 Real estate has been Mae Chang's one and only career. Since 1984, she has offered unparalleled service and proven results to her clients. As a seasoned, savvy professional who understands all aspects of the real estate business, Mae believes that demonstrating honesty, integrity, and ethical conduct guarantees maximum success in her career. Her expansive network, unparalleled client service, and proven marketing strategies have made her a trustworthy real estate broker and a lifetime friend with her clients.
As an experienced broker, Mae specializes in Bay Area real estate and brings more than three decades of real estate experience and her hard-won reputation to every transaction. She is dedicated to helping first-time homebuyers realize the American Dream of homeownership, as well as assisting current homeowners to sell their current property and upgrade to their next home. In addition, clients who wish to add real estate to their investment portfolios have benefited from Mae's extensive experience in development, construction, and property management.
Mae is a member of the Silicon Valley Association of Realtors, the California Association of Realtors, and the National Association of Realtors, which helps her develop valuable connections with other industry professionals and stay on top of the latest developments in real estate. In her spare time, Mae enjoys reading, hiking, and spending time with her family. Mae is also active in her church and enjoys traveling abroad.
Mae also spent several years as a licensed loan broker, which enables her to bring a unique perspective to the transactions she oversees. The #1 reason that transactions fall through is because of problems with financing. With her experience as a loan broker, Mae can leverage her experience to identify potential problems before they occur and take mitigating steps to protect her clients and ensure a smooth transaction if issues arise.
Mae is passionate about giving back to her local community, as well as her church (River of Life Christian Church in Santa Clara). She is also actively involved in several charities throughout the country, including XYZ, ABC, and DEF. As a veteran real estate broker, her mission is to help the younger generation to reach their career achievements in real estate so that she can pass on her built legacy.
Please feel free to contact Mae for all of your real estate needs, whether buying or selling, Mae and her top-notch team can be relied on for excellent service, impeccable attention to detail and, most importantly of all, RESULTS!
CalBRE# 00850044
---
Contact Details
---
Send a Message